A few weeks ago I got a fun bit of news when I logged in to post a new episode of the Youth With A Mission News Podcast. When I went to upload the 86th episode of the news show and saw that the programs I produce have been downloaded over 105,000 times!
I must admit, I got pretty excited when I saw that!
There are very few countries in the world where the content has not been downloaded: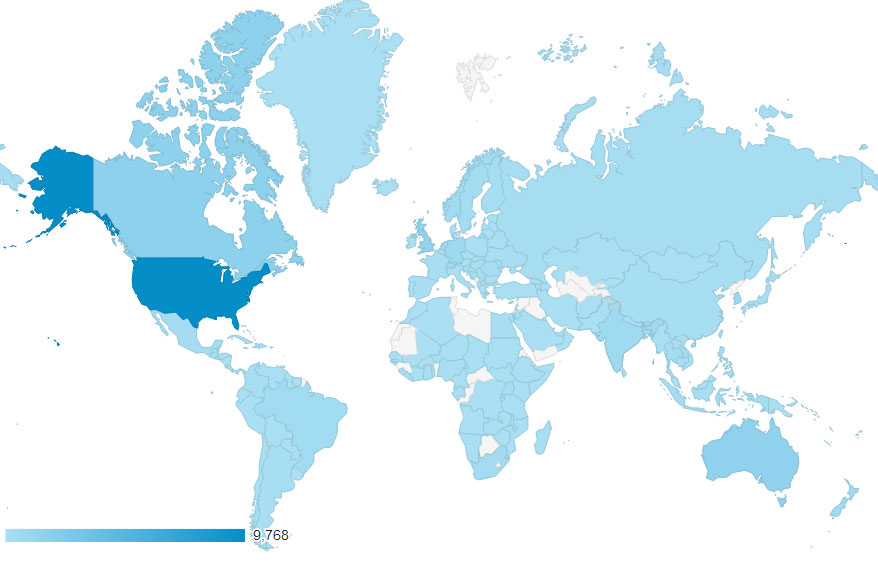 For many years I have felt that God has been leading us to use technology to help people "To Know God and Make Him Known", which is the motto of Youth With A Mission. When I heard my first podcast back in 2005 I knew that this was something that could be used to help people know more about God, about what is happening around the world, and how people can get involved.
I feel very blessed to be in a position where I am able to serve God and Youth With A Mission with this medium, and reach people all around the world.
If you are friends with us on Facebook you would have probably picked up on the fact that we are having a lot of health challenges lately. Tamara's chronic fatigue and fibromyalgia continues to take a heavy toll on her. We are also taking Elijah to speech therapy, and lately Jessica has had at least two medical appointments per week as we pursue some of the health problems she is encountering. Caleb is also continuing with his treatment to restore his digestive system to where it should be. which will hopefully lead to him finally getting the medical appliance out of his stomach in the next few years.
We are also at the moment struggling financially. As full-time volunteers in Youth With A Mission we are responsible for raising all of our own support and finances, and they have fallen significantly since we made the decision to move to Australia. At the same time that our income has dropped,  our expenses have also increased.
We would really appreciate your prayers and support so that we can continue to serve in Youth With A Mission, and reach people around the world with God's message.