Podcast: Play in new window | Download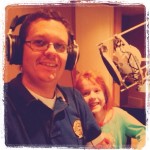 After spending the last two years working on the YWAM Podcast and producing 55 episodes I'm feeling in a bit of funk about it.
Don't get me wrong, I know that God has called me to be a missions communicator to tell others about what God is doing in Youth With A Mission around the world. I am not questioning God's call on my life, I love what I am doing and feel very blessed to be able to do it. The team I work with is great, even though they are on the other side of the world.
Despite knowing God's call on my life I'm still struggling. One of the articles that I read recently had the following quote in it that really spoke to me:
The real battle is when the lie comes: "There is no point to what you are doing, you are not making a difference"
The audio recording that you can listen to above probably describes better what I'm thinking than my writing does. In talking with others both inside and outside of YWAM I am not the only one involved in communications feeling like this.
Your prayers for renewed vision and passion would be appreciated…
Related Links: