In over 16 years of ministry we have worked to reach and serve all of those that God has placed in our path. The last three years have had us serving primarily online from Adelaide, Australia, where we have been able to see some exciting things come to fruition …
What Has Been Happening?
About a year ago I was able to tell you that we had delivered over 100,000 different audio programs around the world. Well, since then we have been able to deliver over another 59,000 programs! The programs include global missions news, as well as teaching from our Youth With A Mission (YWAM) staff and family.
There have been some great teaching, and exciting stories that we have been able to tell to the world. One big story that we were able to share recently involved one of our YWAM missionaries meeting an ISIS fighter in the Middle East! Their meeting, along with a family update, is explained in this video …
Some of the feedback that we have received about our ministry include messages like this:
Sound, biblical teaching under-girds these inspirational messages on the Great Commission.
and
I'm so glad for this podcast! It is important for me to hear about the spreading of the Gospel and a great encouragement. Thank you for the good work!
We continue to be encouraged that we are able to reach and influence so many people around the world.
Will You Partner Financially With Us?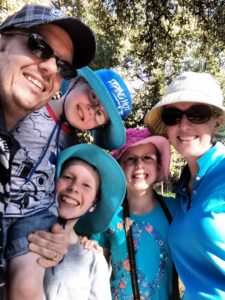 All of us in Youth With A Mission are full-time volunteers, required to raise our own financial support to meet our needs. For most of our time in missions we have been surviving and just scraping by financially. It has been a constant struggle for us, and one that is being highlighted to us as something we need to address.
To meet our financial needs and responsibilities moving forward we are needing to raise an additional $2400 per month. Would you consider taking one of the following slots to help us meet this goal?
4 people at $250.00 per month
8 people at $100.00 per month
12 people at $50.00 per month
You can find out how to partner with me monthly, and how to make a one of donation towards our ongoing expenses, on my donation page.
Will You Pray for Us?
Our family would greatly appreciate your prayer for our health and finances. At the moment our various health problems feel very all-consuming at times, and we would greatly appreciate your prayer for every member of our family.
Thank You
Help us to continue to distribute God's message around the globe. Help us to continue to serve the nations through the use of online technology. Help us to mobilise and equip God's workers into ministry….
Thank you …