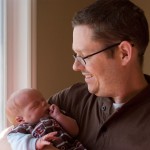 Although we have announced it on our family ministry site I actually forgot to post the news here about our new son, Elijah Bruce Hutchison, being born!
I'm going to blame "baby brain" for that. Many people would argue that baby brain only affects new mothers, but I reckon it's a family wide event.
He was born on 29 April, 2011 here in Calgary. We are all so excited for his arrival, and are starting to remember what it means to have a newborn in the house. It's certainly a big jump from two to three kids!
Here's some photos for you to enjoy…
[slideshow]