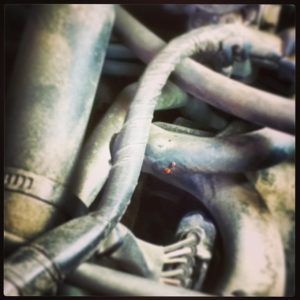 Imagine my surprise today when I'm just putting Elijah down for his afternoon walk, and in burst Caleb yelling at me to get to the garage as the car is smoking! In the background Tamara's calling out for me to hurry up and get out there!
I got out to the garage just in time to see liquid pouring out from under the engine of the car, and steam coming out from around the hood. I slowly popped the hood to take a closer look, careful to avoid the steam, and worried about water gushing from the radiator. What I found was a nice stream of water coming out of the coolant system near the top of the engine.
Crikey!
Suffice it to say that with the coolant system leaking, the rear suspension shot, lots of oil gasket leaks, and the need for two new tyres just to be road worthy, we are in even more desperate need for a replacement vehicle.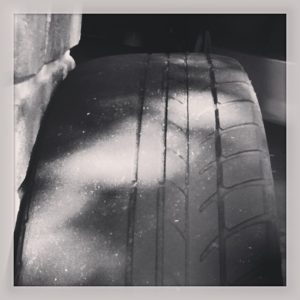 As of today we have received almost half of what we need for a decent quality replacement vehicle for our family. That said, we still need to come up with another $6625 to purchase the vehicle that we are looking at.
While Tamara I were praying together tonight we were again reminded of all the ways that God has provided for us in the past, and His promise to continue to do so. We were also reminded that while God will do His part, we also need to do our part and ask …
Already we have been blessed with 17 different people donating towards our need for a car. We would like to ask if you would prayerfully considering partnering with those other 17 people and donate towards the purchase of a replacement vehicle for our family. If 100 people donated $67, we would reach our goal for the car.
After prayerfully considering our request you can find out how to make your donation on our web-site donation page.