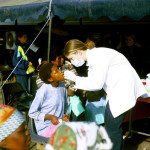 Missionaries are often exposed to health issues while working on the field that are not common in our own "home" counties. While I reckon you would have a hard time finding a missionary who has not at some point suffered from dysentery, there are many other health concerns that missionaries have the possibility of experiencing.
Member Care Media is a ministry of Trans World Radio that desires to prepare cross-cultural Christian workers to help them fulfil the Great Commission. Their web-site is full of some great resources dealing with:
Emotional Health
Leadership
Communications
Cross Cultural Issues
more …
A section that they want to add to their website is a new section on health issues face by missionaries, mostly geared towards people working in the out of the way places. They are wanting input from missionaries around the world with what topics should be included. Here is a statement that they sent me about it:
I'm trying to make a topic list that is truly relevant to the needs of those we are trying to help (missionaries). I thought I would ask for your thoughts on the subject. With all your contacts through YWAM, what health issues do you see as being of most concern to missionaries and expat Christian workers?

We are working with an international Christian health organization in developing the series, and they are fact checking and double checking the medical contents of the scripts. When done these features will be available as audio files, text transcripts, podcasts, etc.

From your perspective what health issues do you see as being of prime concern to yourselves, and to people you know … or for others you have contact with?

Any ideas? Suggestions? Other thoughts?
To help gather the best feedback I can for this great new series on health I wanted to put the questions out to as many people as possible.
I would really appreciate you taking the time to fill out your thoughts, questions, ideas, and suggestions in the comments below. Let's do what we can to make this a resource that can really serve missionaries on the field …
Photo via World Bank Photo Collection