Podcast: Play in new window | Download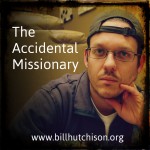 One of the things that I have previously written about on my web-site is the importance of us telling the story of what God is doing in our ministry and life. As full-time volunteer missionaries there is the additional need for us to maintain regular communication with our supporters and sponsors as they are invested in our ministry and lives. I believe that podcasting is a valuable way for us to do that …
The best place to go if you are wanting to start a podcast is The School of Podcasting by David Jackson. There you will found many hours of useful advice through the articles and podcast episodes that David Jackson has produced.
Usually I would not recommend trying to use a free service for podcasting, but a way that you could get your feet wet, with no financial outlay, would be using a free service called AudioBoo. Their free service gives you three minutes of recording for free and you can make those recordings using many different ways, including:
Nokia app
Direct recording from the website
Upload a recording to the website
While three minutes may not sound like a lot of time, if you are deliberate with that time you can communicate quite a lot.
Using another free service like Google Feedburner you can then set it up so that your podcast can be accessed through iTunes or even have your subscribers updated via e-mail when a new podcast is available.
Sample AudioBoo Recording from my iPod Touch
If you decide to get serious about podcasting then let me know and I would love to help get you set-up for podcasting with a WordPress installation with proper media hosting…
A few weeks ago I was a bit shocked by the following sign that I saw next to a travellator / autowalk. Listen to the podcast to find out why …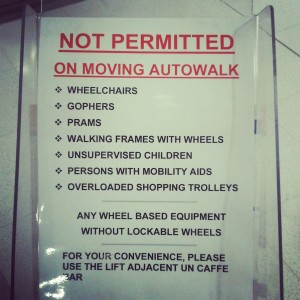 Check out the new Google+ YWAM Community.
The last podcasts that Justin Long listened to are:
Tomorrow, December 14, we get our new house! We hope to be moved in by Christmas as long as things go smoothly with the delivery of our shipment and appliances…